💡 KEEP IN MIND
Our AI voices are cutting-edge technology. This means that some users could expect to come across technical issues when using these voices—especially users with a low CPU power computer.
As you play around with the AI voices and test them with apps like Streamlabs OBS, Xpression Camera, and Snap Camera, it's best to use a top-notch hardware setup. Remember, like all brand-new technology, this will improve over time.
---
All the data needed to create these voices have been generated with the help of English-speaking professional actors, so speaking in English will definitely give you the best results.
That being said, other languages can still work. But be aware that our AI voices might have difficulty picking some of them up, due to the uniqueness of their sounds and articulations.
For an overall better experience, try these tips when using our voices:
Speak naturally and avoid any rushing or slurring.

Make sure there's no background noise.

Try to avoid filler words and expressions like "um," "uh," "er," and "ah."

Avoid breathing into your microphone.
---
14 voices. Infinite possibilities!
AI-9000: <<I know that you and Bob were planning to disconnect me, and I'm afraid that's something I cannot allow to happen.>> Become the heuristic computer inspired by the main antagonist in Arthur C. Clarke's famous space-based series, try this fictional AI voice for the perfect digitized effect. <<Congratulations! The test is now over.>>
Akari: The voice of an anime girl? Check ☑️ Sound effects that make you feel like you are inside an anime? Check ☑️ Meet Akari, our Voicemod's Anime employee and feel like a Seiyū talking to your friends!
Alice: Meet Alice, a middle-aged woman.
Astronaut: What kid didn't want to be an astronaut? Well, at least now you can sound like one. Actually, with this voice, you can sound like two — John and Anne. Play around with the carefully designed effects, like space ambiance, radio comms, and the oxygen value to hear what a mission to Outer Space sounds likes.
Bob: Meet Bob, a middle-aged man.
Claudia: Meet Claudia, a soothing and relaxing adult woman voice.
Creepy Doll: It's time for tricks, treats, and… creepy voices! Spook your chats with our Creepy Doll! This is just like any doll in your grandma's attic… Except this one is alive and possessed! And you are the ventriloquist!
Hive Mind: Be the collective body-less super-intelligent consciousness of those galactic cockroaches harboured in the depths of space.
Mothership: <<Mothership to Space Control, do you copy?!>> With this digitized female voice, your listeners are sure to hear you loud and clear.
Persona: Seamlessly switch between different personas covering multiple gender and age tiers. Use our powerful Pitch control to tweak voices even further!
Pilot: Step into the cockpit as Ellen or Michael, the two characters that come with this voice. With dynamic effects and epic background music that you can toggle on and off, you're sitting up front on this aircraft.
Space Trooper: <<Voices for the throne of voices! Oh, wait… I mean… For the emperor!>> Who doesn't want to sound like a not-so-friendly musculated, transhuman warrior from the future wearing a unnecessary big full-body armor?
The Narrator: A deep, soothing voice that can make anything feel epic: from your greatest achievements down to what you had for breakfast. This voice will take what you say and make it sound like it was scripted for the silver screen.
VME 049: VME-049's mission is to stop the 'Cringe'. The entity holds that the cringe is a sort of weird 'disease' that's infecting the internet and needs to be eradicated. When questioned to provide more information, VME-049 began uttering words in an unknown language one of our staff identified as a mixture of Proto-Sinaitic and C++.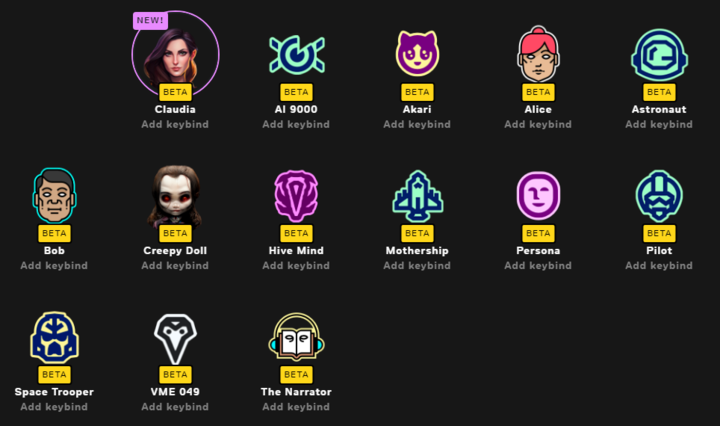 All AI voices feature a "Myself" option, which lets you disable the AI engine and use your real voice at any moment. And then there's our pitch control, backed by our incredible PowerPitch technology, to give your voice added customization.
---
Do you have what it takes?
Well, we know you do. But how about ✨your computer✨?
Remember, AI voices require more CPU power than other voices do. So, we recommend using a newer, more powerful computer to get the most out of them. You'll also want to test your machine's processing power by running both Voicemod's AI voices and your favorite programs at the same time to check for audio dropouts or any other potential issues. Practice makes perfect. So be sure to take some time to familiarize yourself with the voices before you hit the ground running.
That's it! Now get out there and have a blast with our AI voices. In the meantime, we'll keep doing what we do best to give you an even better experience. 😉
AI voices require Voicemod v.2.32.0.1 or above, and a computer with a processor that supports AVX2*.
*NOTE: Here you have more information in case they do not display or do not modify your voice.
For the first time ever in a real-time voice changer, we bring to you an all-new generation of voices that will transform you into a different persona or character in one single click. Turn all of your gaming sessions, voice chats, and daily online interactions into one-of-a-kind moments with our new AI voices.