Every time you start Voicemod do you have to log in, activate your license, and import your backup?

Please, follow these steps to put an end to this problem.
Firstly, export a backup copy of all your customized content following this advice.
This is usually because you had a very old installation of Voicemod and have recently updated it. To solve your problem, you have to uninstall Voicemod deleting all your settings.
Open the start menu from Windows.
Go to Settings.
Select Apps.
And search Voicemod.
Then, select Voicemod and click on Uninstall.
Finally, you'll be asked if you want to keep your settings.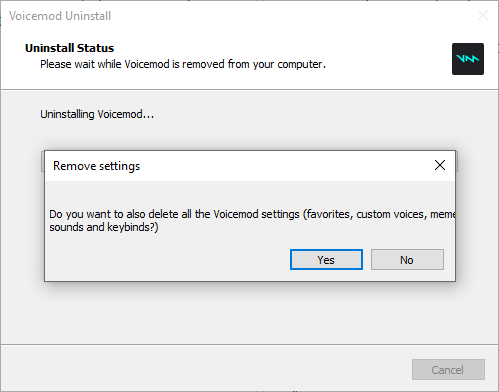 Click Yes to delete all your Voicemod settings.
Then, install the last Voicemod version, and finally, you will have to log in, activate the license, and import your backup for the last time.
After that, your problem should be resolved.
Need more help?
If none of the above works (or you can't or don't want to use other login social methods) and you keep getting the same error, please write us a ticket to the support form: https://www.voicemod.net/support by choosing the following categories:
Account and Login
Other login issues