Voicemod is proudly collaborating with MSI*.
With the combined capabilities of MSI Mystic Light App and AI voice, streamers have a new way to engage audiences with fun audio and visual elements. Take control of MSI RGB lights with the Mystic Light App and enable reactive light effects on your Voicemod.
STEP 1: LAUNCH MSI CENTER & INSTALL THE MYSTIC LIGHT APP
Download MSI Center software (or applicable software)

HERE

.

Install and reboot your system.

Launch MSI Center. Click

at the right top side to activate the Feature Set.

Click the Features Sets Tab and find the "Mystic Light" item.

Click Mystic light "Install" icon to set the Mystic light in place.
STEP 2: CUSTOMIZE YOUR VOICE LIGHTING EFFECT
With Voicemod started, open the tab "Voicemod Sync" in the Features section of the MSI Center.

A list of auto-detected products will be displayed on the top of the control panel.

Refresh Voicebox to synchronize all effects from your Voicemod APP.

Select one of the voice effects.

Customize the LED Style for each voice effect with a total of 9 LED styles.

Click the "Apply" button to save your preference.
*Voicemod Sync can sync all devices' RGB lightning at the same time.
*Notebook does not support the Voicemod Sync feature.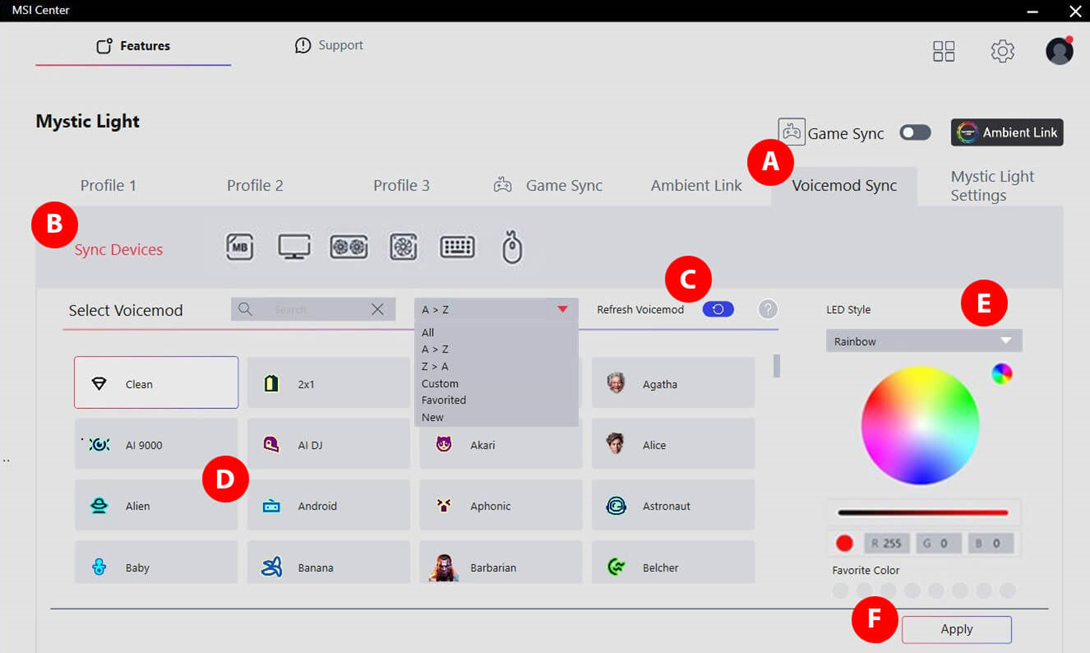 Need more help?
If you have problems or need help, please write us a ticket to the support form: https://www.voicemod.net/support by choosing the following categories:
Technical Support
Other technical issues