When you click on the button to purchase a license, the app has to open a web browser to start the License Purchase.
If Voicemod doesn't open your browser, it's because any antivirus is not allowing the browser to open.
Please, temporarily disable your defenses or add an exception for Voicemod.


If you don't use any antivirus or after adding the exception for Voicemod still doesn't open your browser, maybe you don't have any set by default.
This is how to set a default browser in order to be able to purchase Voicemod:
Open Control Panel > Default Programs, click on "Set program access and computer defaults" and then on Custom to open a dropdown.
Under "Choose a default web browser", select the browser you want to make default and click OK. Do not choose "Use my current Web browser", even if there's only IE listed
If you receive this error after clicking on NEXT: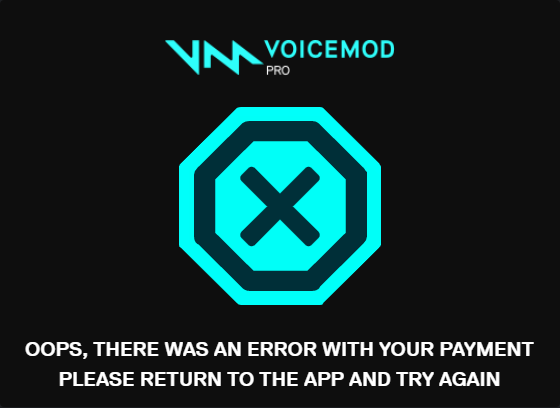 It is likely that some adblocker (probably Adblock Dragon) is causing this issue. Please, disable it or simply close the browser and try to purchase Voicemod again (Voicemod will reopen your browser but without the problem).
Lastly, after entering all your purchase data, there are specific errors that can be displayed during the purchase process, you can check them in the following article: https://support.voicemod.net/hc/en-us/articles/360018481780-Xsolla-Issues-during-purchase-
If none of the above works, please write us a ticket to the support form: https://www.voicemod.net/support by choosing the following categories:
Licenses and Subscriptions
I have had problems during the purchase process