In this article we will show you how to use Voicemod with any Game that has a Voice Chat.
If you need to set up voicemod with any game (GTA, League of Legends, Valorant, Rainbow Six...), please, see below.
Voicemod is pretty friendly with most of the games that have access to a voice chat and it requires a really basic configuration for it to work.
The first thing you would need to do is find the Audio Configuration menu inside your game; using as example League of Legends, you can find this in the Settings menu as indicated on the following images: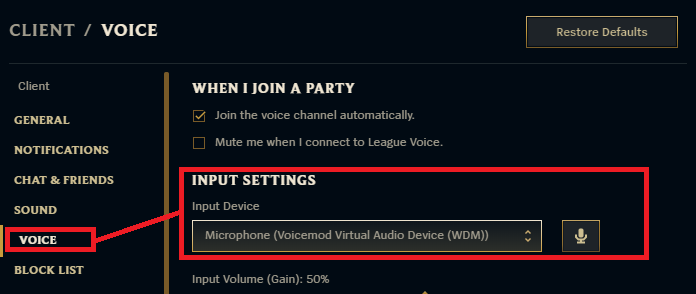 Once you are in the Sound Settings inside your game, you have to select the "Voicemod Virtual Audio Device (WDM)" as your preferred Input device and then save the changes.

- My game does not allow me to select an Input device!

If by any chance your game does not offer you the chance of selecting your preferred microphone, perhaps this is done through the Client of the game's platform - for example Blizzard:

In this case go to Settings and then Voice Chat - there you will be able to select your Output and Input devices.




If this option is not available for your game either, you will have to select the "Voicemod Virtual Audio Device (WDM)" inside the Windows Sound settings.

For this, right-click on the speaker on the botton right corner of the screen and select "Open Sound Settings"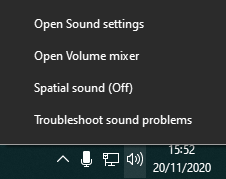 Inside Sound Settings select the option "Sound Control Panel" in the right margin.




Afterwards, got to the "Recording" tab and find the "Voicemod Virtual Device" - select it as your default Microphone.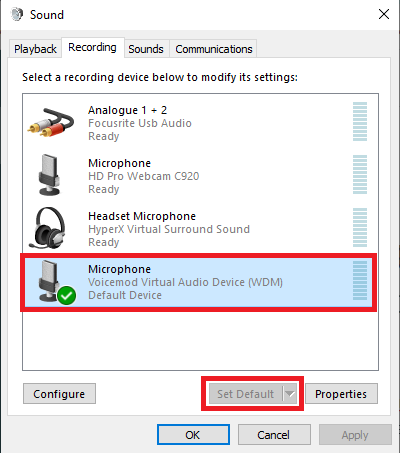 Remember to change this back to your preferred microphone when you are over playing the game you want to use Voicemod with, because this microphone will only work when Voicemod is running.