What's the best way to top off a joke with your friends? A hilarious sound effect that's timed just right!
If you're looking to shake up your group chats with a perfectly timed joke or maybe you just want to surprise your friends mid-chat, then you're going to have a blast with our Tuna's Discord bot.
The Tuna's Discord bot lets you access our library of sound effects from your own Discord serve to take your chats to the next level. Take a look at how to install the bot on your server and how to use it to have a blast with your squad:
How to Install the Tuna Discord Bot
To install our Tuna's Bot in your Discord server, there are some requirements to keep in mind:
You need to have Discord installed.
You must log in to your Discord account.
You need a valid invitation link.
You need administrator permissions for a community.
If you meet all the requirements, you can go ahead and install our Tuna's bot!
Click the following link to get started: https://tuna.voicemod.net/discord-bot
Check the following GIF to see the full path to install it: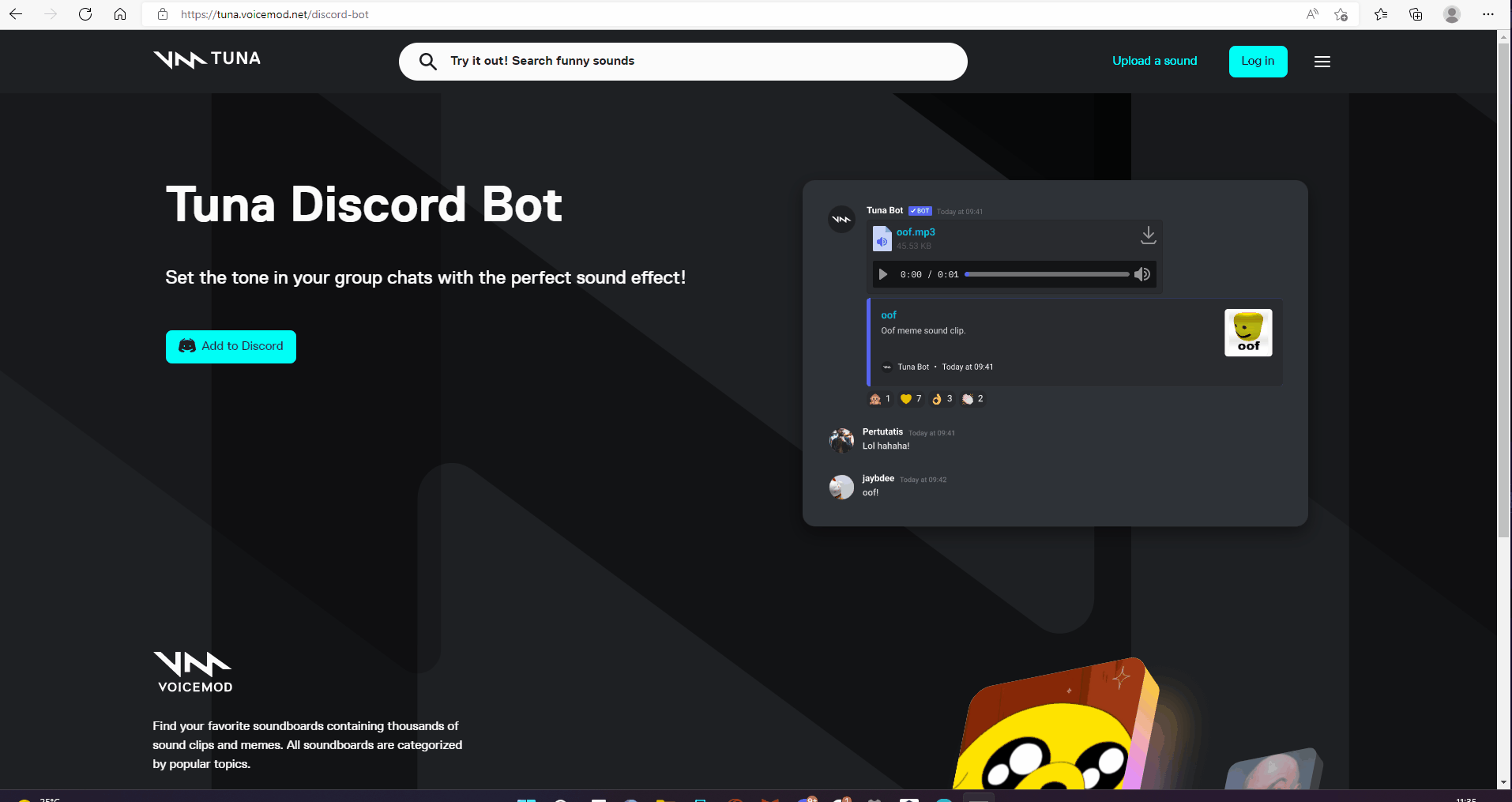 How to Use Tuna's bot
Once you install the Tuna's Discord Bot in your server, you can use it by triggering different commands that you can prompt using the slash bar "/".
Here are some examples:
Command search: /search
Command play: /play

Command random: /random
With these commands, you'll be able to play any sound from our Tuna's library in your server–regardless of whether or not you have the Voicemod desktop app installed!
You can also restrict the bot from accessing certain channels or limit it to concrete roles.
You can do this from Server Settings -> Integrations -> VoicemodTunaBot
Need more help?
If you encounter any issues while trying to use our bot, please check out the following article: What to do if Tuna's Discord Bot Slash Commands Don't Appear
If you have any questions about the bot, please reach out to us at: Support form