If you can hear your normal voice and your transformed voice with Voicemod (6 basic checks if Voicemod doesn't work) but you have problems connecting Voicemod with Discord maybe it is a problem with the Windows mixer.
First, check your Voicemod settings on Discord:
Voicemod has to be open in order to feed the virtual microphone.
Open Discord.
Go to Settings.
Search for the audio section.
Set the Voicemod Virtual Audio device microphone as your input device.
Set your headphones/headsets as your output device.
It is Done!
If you are using Discord, the audio subsystem should be set to"Standard" mode*. Go to"Settings" and there to the "Voice & Video" tab. Scroll down to the "Audio Subsystem" drop-down list and select the "Standard" option.
*Some users have reported that the Legacy audio subsystem works better for them. If the problem persists with the Standard audio subsystem, please try the Legacy audio subsystem.
In addition, please note that the Discord test is currently failing in some situations* and you should test it on call directly.
*You can check this here:
https://www.reddit.com/r/discordapp/comments/npgp8x/voice_randomly_cutting_out_in_mic_test/
https://www.reddit.com/r/discordapp/comments/nxw04t/discord_mic_volume_fluctuating/
In addition, set all these options in this way:​

​​​



If you already had the right settings, please, follow the next steps to reset the Windows mixer:

1.- Open Voicemod.
2.- Go to the Voicemod Settings->Advanced settings tab.
3.- Disable the anti-popping mode.
4.- Disable the exclusive mode.
5.- And without closing Voicemod (this is very important), resets the Windows mixer:


Open Start -> Settings
​​


Go to "System":
​​


Click on "Sound".


Look for "Advanced sound options" and go to "App Volume and device preferences":
​​


Here, click on "Reset":
​​
If you have followed the previous steps and it is not fixed might be your Line or Voicemod microphone is muted.
Go again to Sound options:
Locate Line in the Playback tab
Properties > Levels
Make sure it is not muted.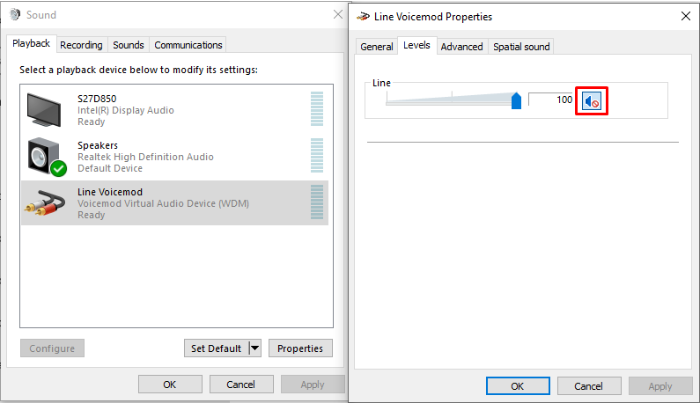 Same instructions are in the Recording tab. Make sure your Voicemod microphone is not muted.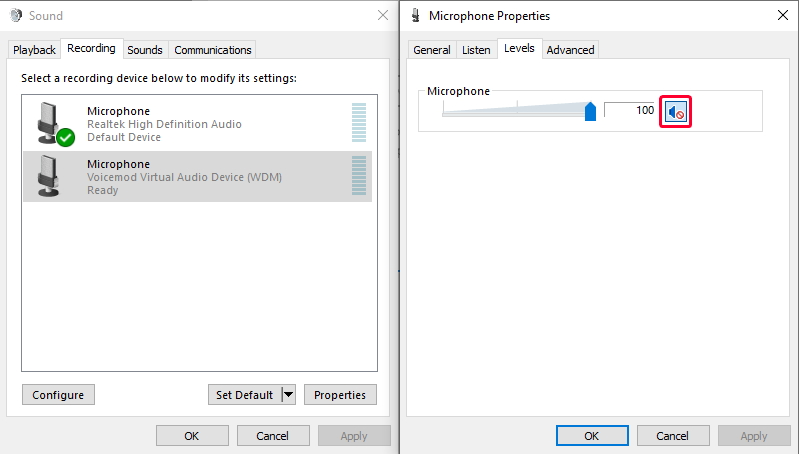 If these steps haven't helped you to solve your problem, please read this article before writing to us for help:
https://support.voicemod.net/hc/en-us/articles/360016797099 ​