In case you want to uninstall Voicemod from your PC, follow the next steps:
- Open the start menu from Windows.
- Go to Settings.
- Select Apps.
- And search Voicemod.
- Then, select Voicemod and click on Uninstall.
- After that, you'll have to accept that Voicemod can make changes to your computer to finish the process.

- Finally, you'll be asked if you want to keep your settings for future installations, in case you want to use our software again.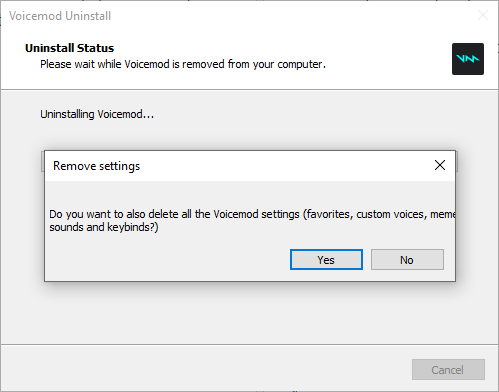 If you click Yes, you will delete all your Voicemod settings.
Remember that it is advisable to back up your content on a regular basis:
https://support.voicemod.net/hc/en-us/articles/360016743420-How-to-export-and-import-settings
After the uninstallation, restart your computer to be sure that all the Voicemod drivers and sound configuration are deleted.
If after uninstalling and restart you still have audio problems, check this article Experiencing microphone issues after uninstalling Voicemod.