Are you trying to log in but the browser doesn't load the web?
Please, follow me in the next steps to try to solve this problem with the login webpage.
If you receive the error "This site can't be reached" in your web browser when you start the login process: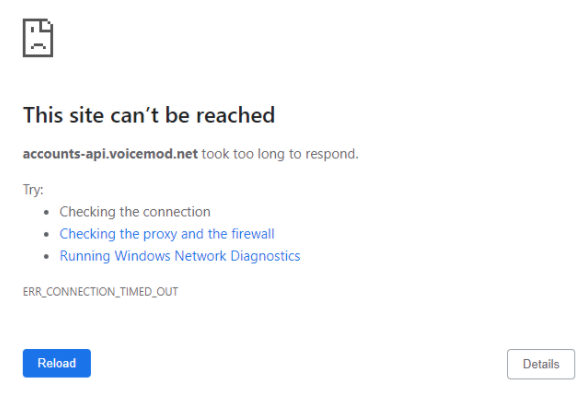 It means that there is something in your connection and/or on your computer that is preventing access.
Please try these steps* to try to solve it:
Check Your Connection

Restart your router.
Check to see if you're on a slow wifi connection.
Try on another network or even with your mobile data

Disable Firewall and Antivirus Software Temporarily
Disable Proxy Settings
Clear Browser Cache
Use the incognito mode
Temporarily Disable Your Plugins
Change DNS Servers
*If you do not know how to complete any of the steps, we recommend this complete article: https://kinsta.com/blog/err_connection_timed_out
If none of the above works and you keep getting the same error, please write us a ticket to the support form: https://www.voicemod.net/support by choosing the following categories:
- Account and Login
- Login "This site can't be reached"