Tuna is our community-generated library of sound clips. With more than 20,000 sound effects and counting, you can browse and download all of your favorite sounds to create customized soundboards and meme-worthy moments with your friends online. Search through thousands of sounds by categories and popular topics and import them directly to Voicemod–or access them directly from Discord with our Tuna Discord Bot!
Tuna is the best way to search, share, and download sound effects to have even more fun online. Create your own soundboards on Voicemod, add keybinds to your favorite sound effects, and play them with the touch of a button in all your online chats, gaming sessions, and live streams.
How Tuna works
You can use Tuna in two totally different ways:
To discover the best sound effects and meme sound clips:


Search a specific category of sounds, find the sound you want, and play it. If you like what you hear, you can then download it, add it to your soundboards in Voicemod, and share it with your friends on social media or WhatsApp. Search for all your sound effects in the top search bar on the Tuna homepage for any sound you could possibly imagine!
To add your own sounds to Tuna:
You can contribute your own sound effects to Tuna by uploading any sound to our site for our entire community to access and enjoy.
How to upload sounds to Tuna: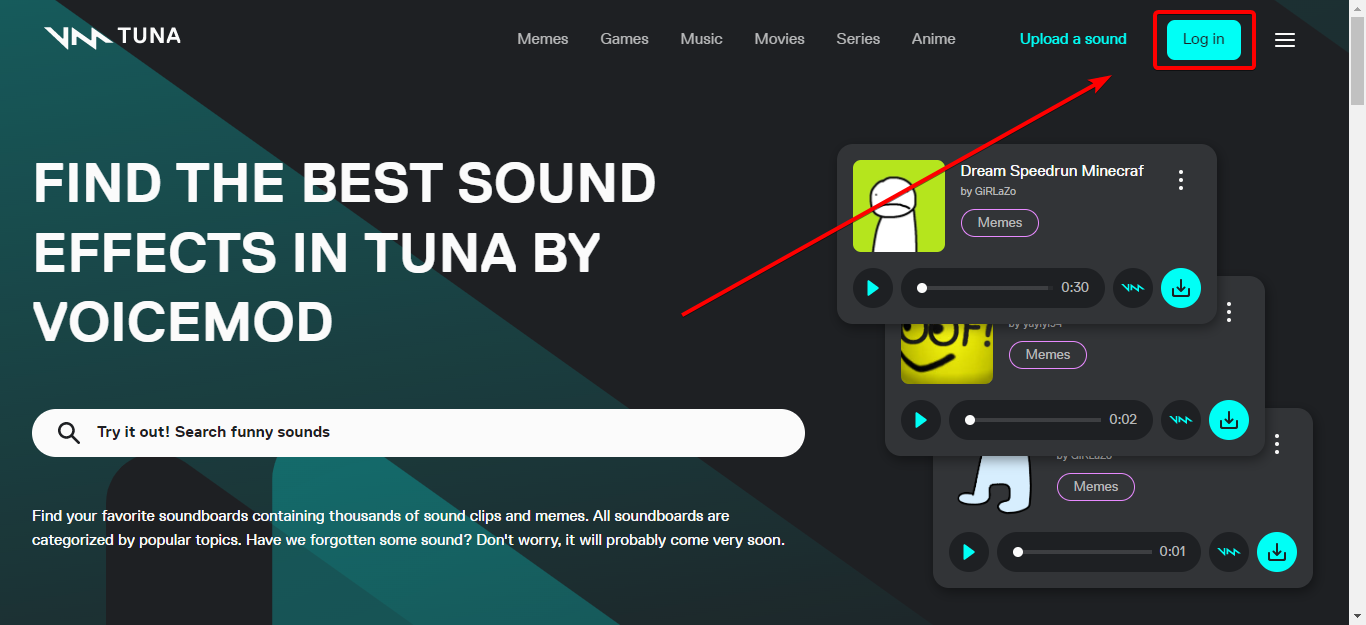 *You'll be redirected to our web page in order to select which social platform you want to use to log in. Follow this article to log in to your Voicemod account:
https://support.voicemod.net/articles/How-and-why-login-on-Voicemod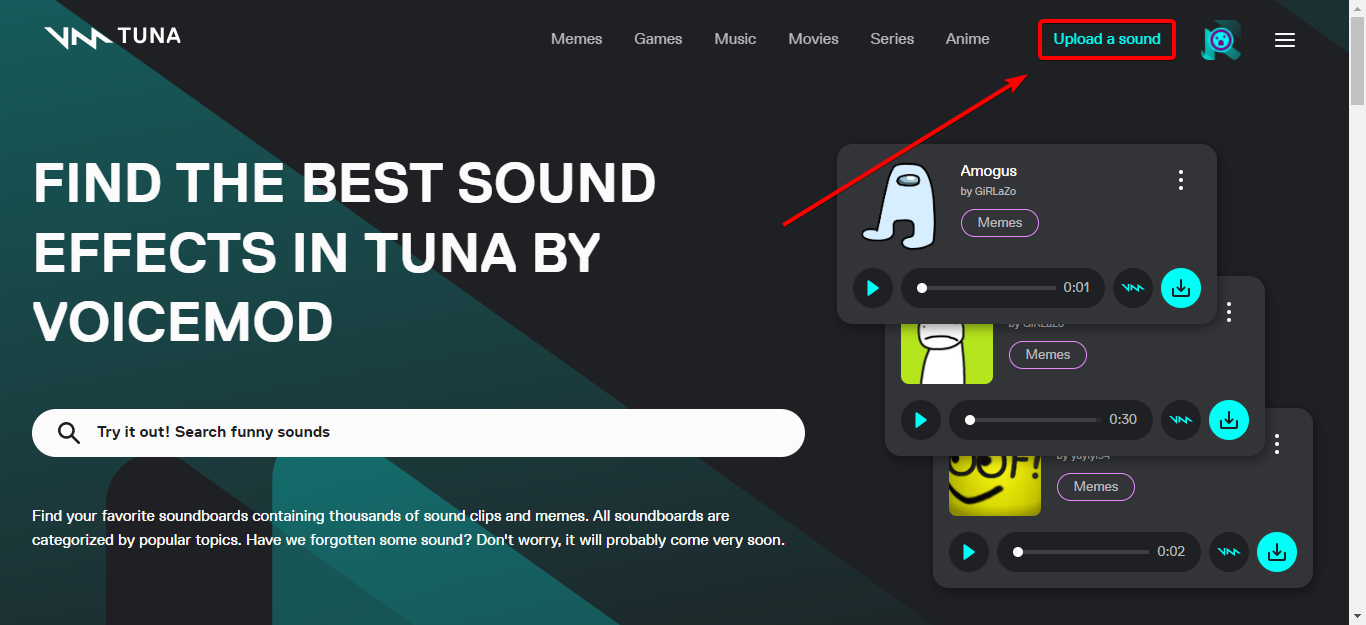 Drag and drop any MP3 file* or upload it by clicking "Choose a File":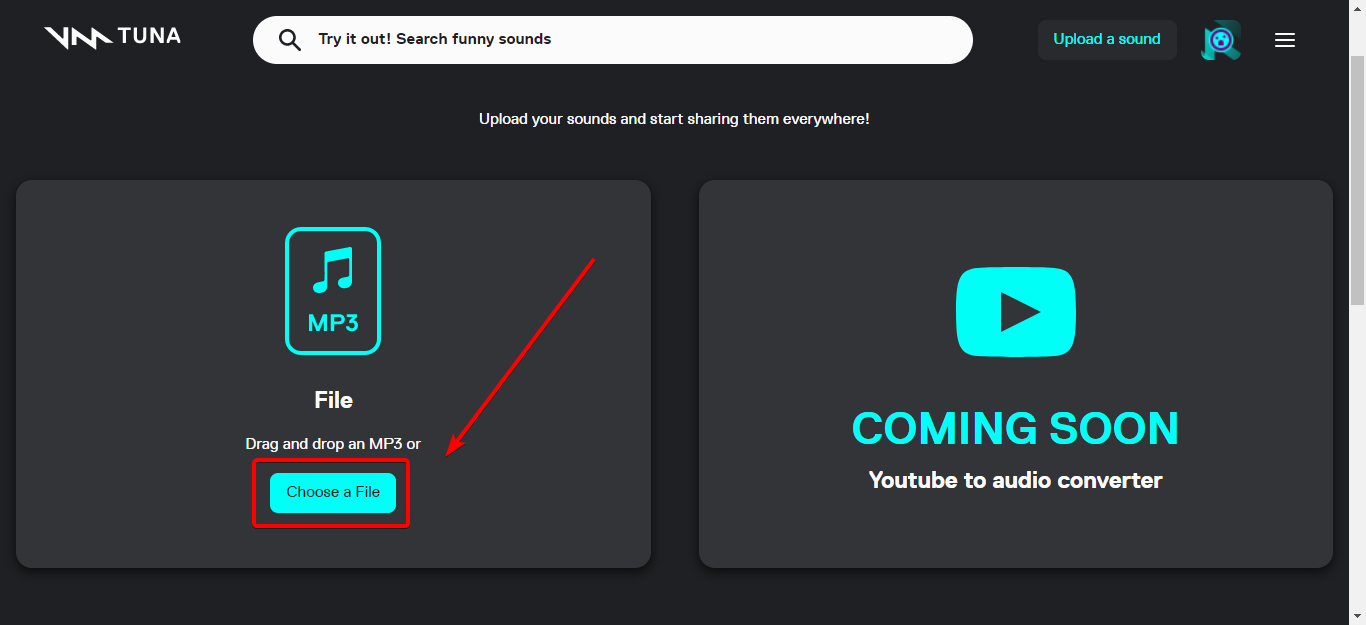 *Audio files are currently limited to no more than 5 minutes. And, if the audio is longer than 45", you have to choose which part you want to upload. Please read this article if you need to upload files longer than 5 minutes or clips longer than 45".
Fill all the fields

* and click "

Upload

" once you've finished.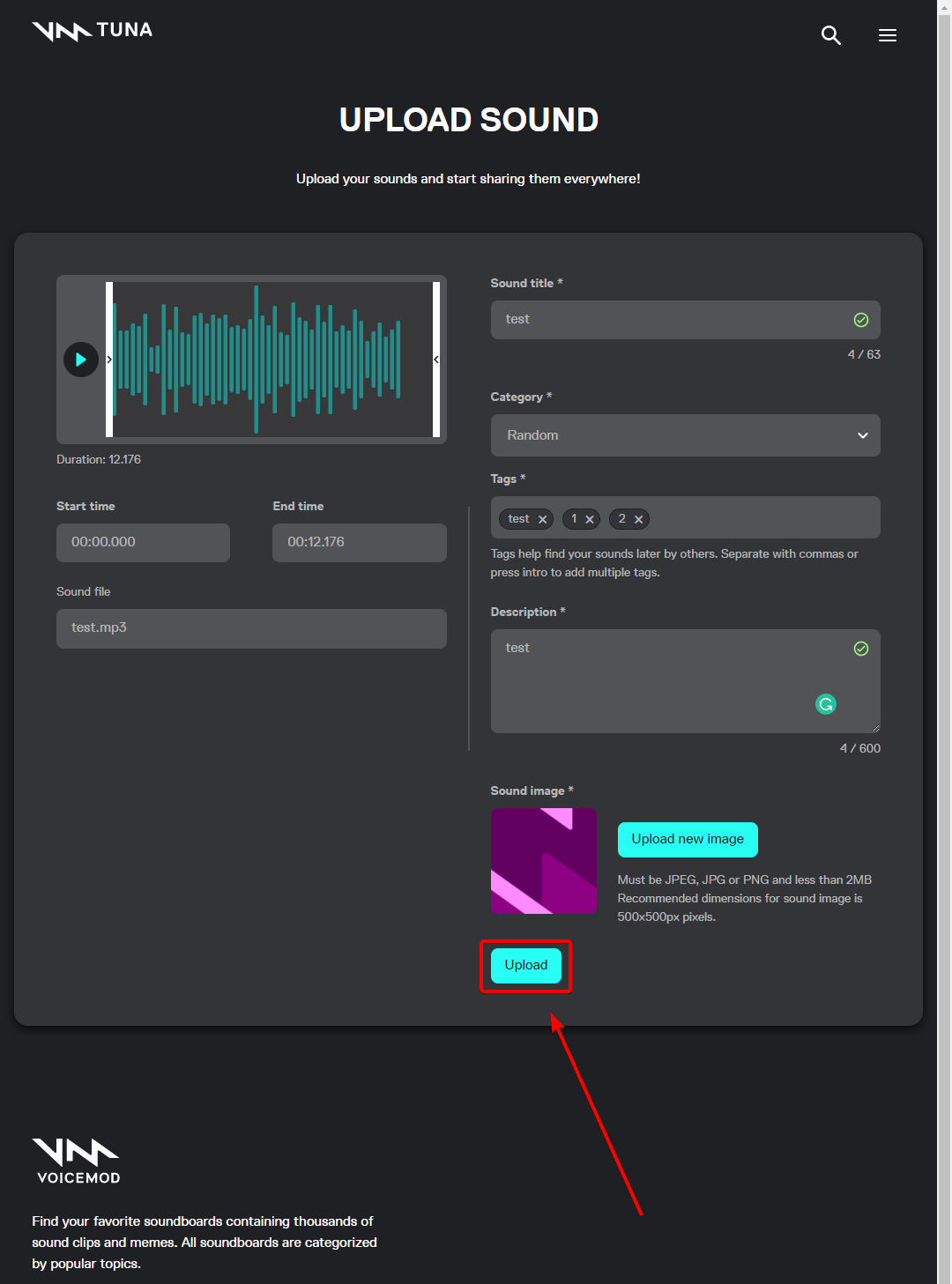 *Please review our Community guidelines that everyone should follow when uploading new content so we can ensure that nobody is harmed or insulted when accessing sounds on Tuna.
How to use Tuna with Voicemod:
Are you a Voicemod user? Then you can import the sound clips from Tuna directly into your Voicemod app! Once you add them to Voicemod, you'll find them in your custom soundboard, available for you to play at any moment. It's that simple!
Once you have uploaded the file, click on the button shown below to import the file to Voicemod: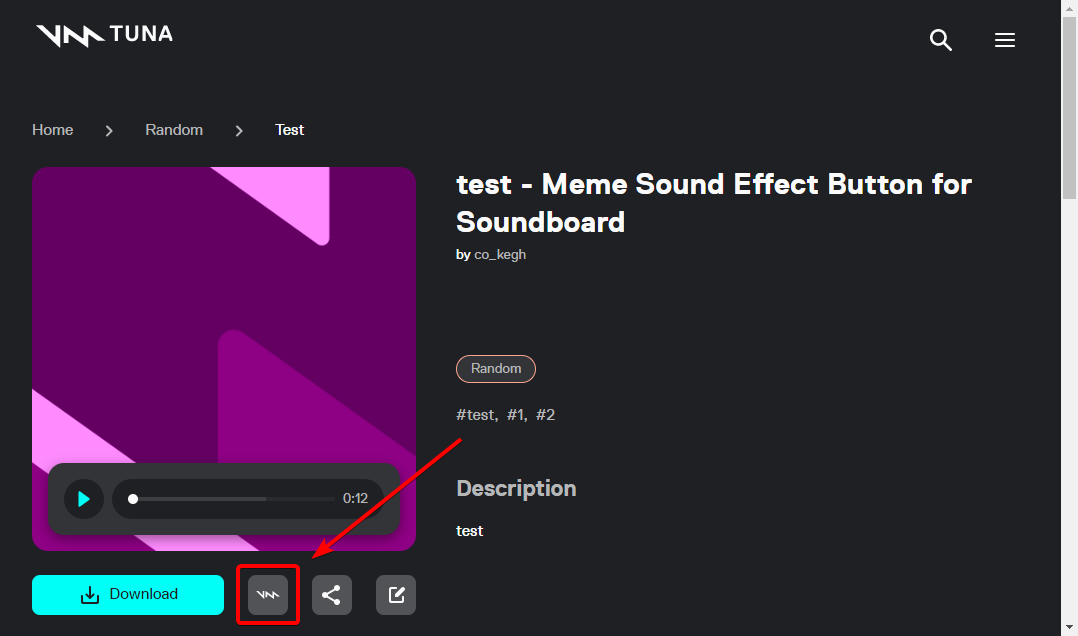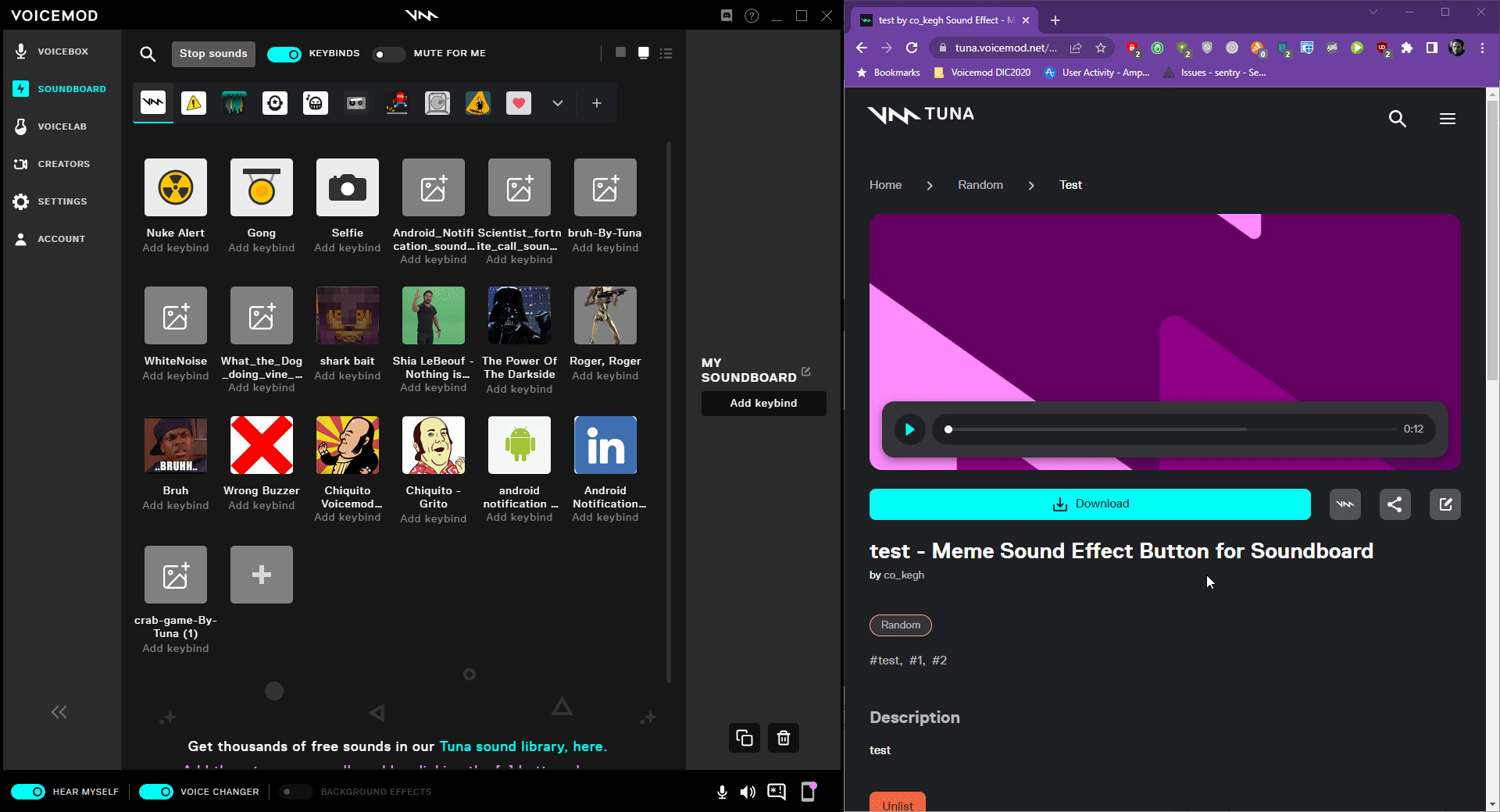 What's coming next for Tuna?
We're constantly working on improving and adding new features to Tuna to give you the best possible experience. Stay tuned for new updates to come!
Need more help?
If you have any other doubts or concerns about Tuna, please reach out to us here and we'll get back to you as soon as possible: https://www.voicemod.net/support/