Are you trying to log in but Voicemod only shows the "We're verifying your account" pop-up?
Please, follow us in the next steps to try to solve this problem with the login.
As you know, when you click to log in on Voicemod on the "Enter Voicemod" button, this message will be shown.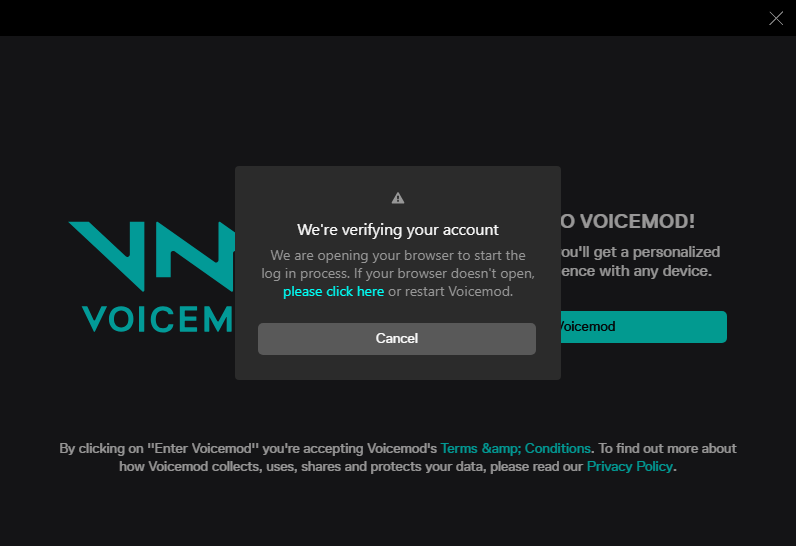 After that, the app has to open your web browser to start the login process.
If your browser is not automatically opened is because you need to have a default browser in order to be able to do it.
Please, follow the next steps to set one:
Open Control Panel > Programs > Default Programs, click on "Set your defaults programs".
Under "Web browser", select the browser you want to make default and click OK. Don't choose "Use my current Web browser", even if there is only Internet Explorer listed.
If your browser opens, you successfully log in and Voicemod doesn't recognize that you have done so, please close your browser and then close Voicemod. After that, open Voicemod and try to log in again.
If this doesn't work, restart your computer and try again.
If completely rebooting your computer hasn't solved the problem, try to login again in any of these ways:
Using the incognito mode of your browser and going to https://account.voicemod.net/#/?action=login
Install and set by default another browser that you have not used until now.
Delete on your default browser all the cookies related to Voicemod and empty your browser cache.
If Voicemod still doesn't recognize that you have logged in, please write us a ticket to the support form: https://www.voicemod.net/support by choosing the following categories:
- Account and Login
- Login stuck at "Almost there" message